Evidence-based Nursing Education
Integration of the best research with clinical expertise and patient values.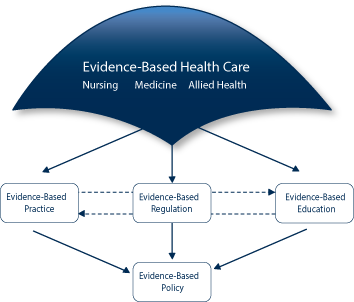 What do we mean by evidence-based?
Sackett et al., 2000, has provided us with a universally accepted definition: the integration of the best research with clinical expertise and patient values. Evidence-based nursing, therefore is a rigorous methodology where all the research data for a particular problem or issue are analyzed together, also accounting for values and expert consensus. Nurse educators incorporate evidence-based practice into their curricula and use evidence-based strategies to support their teaching strategies. Nurse regulators use evidence-based regulation in their regulation of nurses. 
How has NCSBN contributed to evidence-based nursing education? 
NCSBN continually adds to the body of knowledge surrounding evidence-based nursing.  Notable projects and resources include: 
Is there evidence to support clinical experiences in prelicensure nursing education programs?
Yes! NCSBN, with a committee of its membership and in collaboration with the educators in nursing and other fields, developed anevidence-based position paper on clinical experiences, which was adopted by our membership in 2005. The position paper was based on a systematic review on nursing education outcomes, and the results of the systematic review have been presented and published in JONA's Healthcare Law, Ethics and Regulation and Chapter 12 in Clinical Nursing Education by Avd & Valiga (2009). 
How much simulation can and should be used in nursing education programs to optimize student outcomes?
NCSBN has completed a multi-site, longitudinal study on the use of simulation. Results of the study were presented in a supplement to the July 2014 Journal of Nursing Regulation, and NCSBN is currently developing guidelines for use of simulation based on the study outcomes.
Will a standardized transition to practice program in nursing improve patient outcomes?
NCSBN has conducted a multi-site, randomized study of transition to practice to learn whether the evidence supports states using a standardized transition to practice program in nursing. Many variables, including new nurse competence, reported errors and safety practices, work stress, job satisfaction and retention have been studied. The results will be available in an upcoming issue of the Journal of Nursing Regulation.
What are the implications of the faculty shortage for nursing regulation?
NCSBN hosted a Faculty Qualifications conference in 2008, where nurse leaders learned more about what is currently being done to deal with the shortage and had the opportunity to discuss potential solutions, and developed a report containing the results. Presentations from this conference include: