2023 NCSBN Midyear Meeting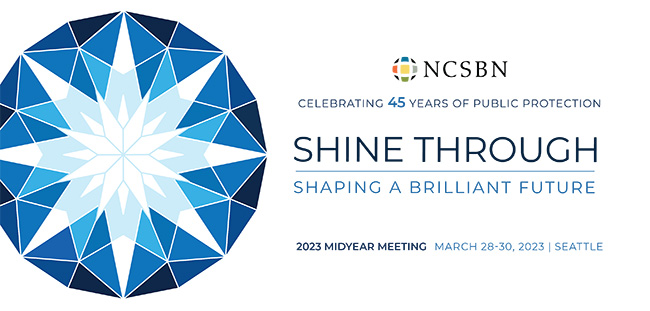 When
March 28-30, 2023
Seattle, WA
Where
Sheraton Grand Seattle
1400 6th Ave
Seattle, WA 98101
Book Hotel
Registration Deadline
March 01, 2023
Register Now
Day One - March 28, 2023 - Leadership Day
For Presidents and Executive Officers (EOs) only. The theme of this year's Leadership Day is governance reform. We will be examining and discussing contemporary governance for both the nursing regulatory bodies (NRBs) and NCSBN. The goal is to ensure that we, as a whole, move forward into the future as agile, fit for purpose and state-of-the-art governance structures.
Day Two - March 29, 2023 - Regulatory Day
This day addresses the current work of NCSBN, including the committee forums and updates from the Leadership Succession Committee and Government Affairs. Area meetings will also be held on the second day.
Day Three - March 30, 2023 - Education Day
COVID-19 Vaccination Meeting Attendance Policy
NCSBN is committed to protecting the health and safety of its staff, members and other individuals who attend NCSBN conferences and meetings in-person. Accordingly, effective December 2021, all in-person attendees at an NCSBN conference or meeting will need to be fully vaccinated against COVID-19. An individual is considered 'fully vaccinated' if at least two weeks have passed since the individual's receipt of the second dose of an FDA approved two-dose COVID-19 vaccine or since the individual's receipt of the first does of an FDA approved single-dose COVID-19 vaccine. Individuals who are not fully vaccinated one day prior to an NCSBN in-person meeting or conference will not be permitted to attend in-person.
Unable to attend?
Join the 2023 NCSBN Midyear Meeting webcast to watch the Regulatory and Education day sessions.
Webcast Details
Meeting Materials
Topic

Committee Updates, Leadership Updates, Midyear Meeting, NCSBN Members Only, NCSBN Organization

Audience

Board Members, Board Staff, Board Executives, Executive Officers

Knowledge Network

Dress Code

Business