NLC Story
North to the Future: the NLC would Benefit Alaskan Nurses and their Patients
Posted 04/01/2021
In the last year, the Nurse Licensure Compact (NLC) has experienced extraordinary growth and change. The current status of the compact can be viewed via this interactive map. With the NLC's current state of evolution, the compact is becoming ever more vital to nurses and those who employ them. NCSBN is sharing compelling NLC success stories to show how the compact positively impacts nurses and patients.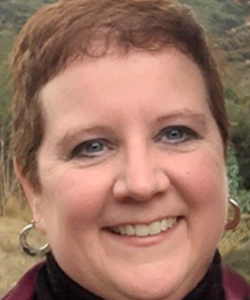 Alaska's motto of "North to the Future," adopted in 1967 for the Alaska Purchase Centennial, suggested a land of promise. This optimistic statement could also apply to efforts by lawmakers and nurses in the state to enact the Nurse Licensure Compact (NLC). A
December 2019 survey of Alaska-licensed nurses, conducted by the Alaska Board of Nursing and NCSBN, revealed that 92% of Alaska's licensed nurses are in favor of the state joining the NLC.
One nurse leader who supports enacting the NLC in Alaska is Elizabeth Paxton, MSN, RN, NE-BC, chief nursing officer,
Providence Health & Services Alaska. Paxton is responsible for all nursing practice for the Providence Alaska Region.
"The NLC would create one standard that ensures that we're all practicing at the highest level of care for our patients," says Paxton. "This in turn protects the community and our patients, as well as our caregivers, to ensure that we're all practicing at the highest standards."
While Alaska is the largest U.S. state geographically, its population is less than 800,000, about one resident per square mile. Nearly a quarter of the population live in areas that are only accessible by plane or boat. Many residents live in communities of fewer than 1,000 people. Health care is Alaska's largest private-sector employer. Providence Health & Services, Paxton's employer, operates the largest medical center in the state, and three critical access hospitals in rural communities.
"We have a bit of a recruiting problem here in Alaska, because of our remoteness and people not wanting to stay due to the weather or being so far away from family for long periods of time," says Paxton. "Being part of the NLC would allow people to come to the state, start practicing and stay as long as they can."
Paxton has experienced the delays of obtaining licensure firsthand. Before joining Providence Alaska in November 2020, she served as chief nursing officer at Providence Saint Joseph Medical Center in Burbank, California. Previously, she worked as a Newborn Intensive Care Unit staff nurse at Children's Hospital of Alabama before moving to Indiana.
"Indiana is a compact state, and California and Alaska are not," says Paxton. "When I moved from Indiana to California, it took four months to get my California license. I had to pay for fingerprinting and licensing fees which delayed my start with Providence by about two months. When I moved from California to Alaska, I had to apply for my license, go through all the fingerprinting again and present my CEUs. This happened during COVID. Because Alaska is a very small community, the board was very busy hiring travelers into the state. I was delayed almost two months in getting my Alaska nursing license."
COVID-19 has been the greatest public health emergency in generations. If every state was in the NLC, costs to health care facilities, providers and state government could have been reduced, and treatment could have been provided more quickly to areas where it is needed most. Nearly every state – Alaska included -- issued emergency declarations and lifted state licensure regulations in 2020.
"Because we are small and very remote, getting people in as quickly as we can is imperative during a disaster like a pandemic," says Paxton. "If we had not had that emergency declaration, I don't know that we would have received the help we needed. I think being part of the NLC could certainly help. Again, it creates one standard -- if you're a nurse and you're licensed in one state, you're licensed in any state."
Paxton feels the NLC would help health care employers recruit because people like to come to the state seasonally. "I've heard from travelers. If they don't start early enough, they miss the season because they haven't gotten their license," she explains. "They have to do a lot of proactive planning ahead if they want to come to Alaska. But if you are a traveler in the Midwest for instance, you can go from state to state without any break between contracts because you're already licensed in those states; the bulk of the compact states are in the middle of the country. If Alaska was in the compact, it would make them more mobile when they start up with the travel company."
As the NLC has evolved, some states are still reluctant to join. One concern, related to the safety of patients, is due to a misunderstanding about the licensure standards to be an NLC member state. On this subject, Paxton says, "from a safety perspective, there are nursing school standards across the board. And when you graduate, you take the NCLEX. Every state also requires background checks. I don't know that people are asking for different things, but creating the compact can ensure that everyone's standards are the same, so that we are providing the safest care that we can to our patients."
The Gallup poll that has ranked nursing as
the most trusted profession for 19 years in a row is a nationwide poll, from respondents of every state. In a time where technology's reach and power are quickly removing boundaries and opening up avenues to care, nurses need to be able to go quickly and fluidly to where they are needed most. For Paxton, the future is now. Joining the NLC would benefit Alaskans and the nurses who care for them.
"This would also go further to create unity among nursing, and it would make us more of a united profession, if you will, because we are all ensuring that we're practicing at the same level and responding to things the same way."