COVID-19
An Amazing and Humbling Experience
By Nevada State Board of Nursing Board President Susan S. VanBeuge, DNP, APRN, FNP-BC, FAANP
Posted 03/01/2021
Now that the U.S. has moved into the vaccine phase of the COVID-19 pandemic, there is an unprecedented and urgent need for qualified personnel across the country to safely administer the COVID-19 vaccines. Many medical professionals have stepped up to volunteer their skills and expertise.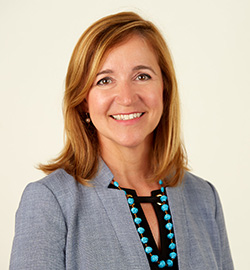 I am reflecting on a year to remember. In early 2020, I was busy writing about The International Year of the Nurse and Midwife for Nevada State Board of Nursing News and the Nevada Nurses Association's RNformation publication. At the time, I was reflecting on the writings of Florence Nightingale and how far nursing had come as a profession since our humble beginnings. I was also caring for an immediate family member undergoing radiation for brain cancer and focused on my role as caregiver during an uncertain time, all while managing my role as educator, board member, spouse and parent.
Like many people, when I first heard of COVID-19 I was not concerned because it seemed like something far away and with little impact to my immediate world. I was busy with my regular duties as an associate professor in residence at the University of Nevada, Las Vegas, my responsibilities as a board member, and a nurse practitioner. By early March, at NCSBN's Midyear Meeting in Boston, there was a lot of buzz about the virus. On a quick trip to Washington, D.C. shortly after that for another meeting, it was all becoming real. I flew home March 10 under a cloud of panic and uncertainty, with little understanding of what would change in just a matter of days.
On March 13, Nevada public schools closed and sent students' home. Four days later, an unprecedented closure of the Las Vegas "strip" went into effect. Our nursing board office was directed to take work to remote locations and manage the daily functions and duties of the board staff. Board members were constantly updated on the ever-changing situation, while always keeping the board's mission front and center: "to protect the public's health, safety, and welfare through effective nursing regulation." This never wavered.
From everything I was reading, I knew that we would need volunteers to mobilize once a vaccine was readily available. Then in March, Gov. Sisolak called on Nevadans to volunteer and established the Nevada Battle Born Medical Corps. I signed on and completed activities to be prepared when the time came to serve, including modules on contact tracing and immunizations.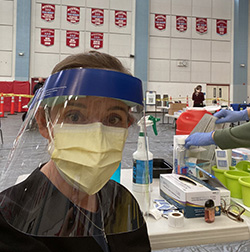 In January I began volunteering in the Las Vegas community. The experience has been amazing and humbling. Vaccine recipients were grateful, happy, and some were visually moved to tears. When I received my first vaccine, I was almost overcome with emotion: relief, joy, and the feeling that this was the beginning of the end of COVID-19.
The vaccination site where I volunteered has been well organized, efficient and a model of teamwork. Most of the people at my site are volunteers, from the greeters at the door to those who watch over patients after they have received their vaccinations. Local health department leaders in charge of the logistics ensure that the effort runs smoothly, and are also available to answer questions and address challenging situations.
As a nurse practitioner, I have not been in a typical bedside nurse position for many years. I was initially anxious about giving vaccines, but it was easy to refresh my skills and get back into the swing of providing this type of care. While I know my time and efforts are supportive of the vaccination efforts, I get so much more out of it personally, and I am grateful for the opportunity to serve my community.