COVID-19
I Needed to do Something to Give Back
By Nevada State Board of Nursing Executive Director Cathy Dinauer, MSN, RN, FRE
Posted 03/13/2021
Now that the U.S. has moved into the vaccine phase of the COVID-19 pandemic, there is an unprecedented and urgent need for qualified personnel across the country to safely administer the COVID-19 vaccines. Many medical professionals have stepped up to volunteer their skills and expertise.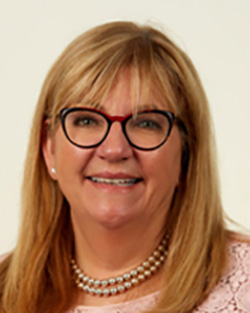 My days are usually filled with regulatory issues affecting nursing practice -- the licensing and certification of nurses and nursing assistants, overseeing prelicensure programs and investigating potential and actual violations of the Nurse Practice Act.
When COVID-19 hit, my regulatory world and its priorities changed, and I realized I'd need to call on my years of experience as an emergency nurse and spring into action.
In the early stages of the pandemic, Nevada established the Battle Born Medical Corps of volunteers to relieve anticipated burdens placed on active health care personnel and facilities affected by COVID-19. Nevada medical providers, mental health providers, health care leaders, students and others were encouraged to apply for this volunteer service.
I was initially reluctant to sign up; I had not been at the bedside for many years, and in my opinion my nursing skills were very rusty. But as the pandemic continued, I was reminded on a daily basis of those who were devastated by this terrible virus; health care workers were at their breaking point watching patients die day after day. I needed to do something to give back to the profession that has for so long taken care of me. It was time.
I volunteered and waited for the call. When it came, I jumped at the opportunity and signed up immediately for my first shift. Since vaccinators qualify to receive the COVID vaccine, I was able to get the Moderna vaccine before starting my volunteer duties.
I was nervous and invigorated at the same time. I felt like I was part of something important; something historical. Was I going to be part of helping save someone's life by giving them this life-saving vaccine? As we prepared to deliver vaccines, I was impressed with the preparation and organization of the Washoe County Health Department. I was assigned a "lane" for the drive-ups with another "dispenser" and helper, while a pharmacist prepared the doses.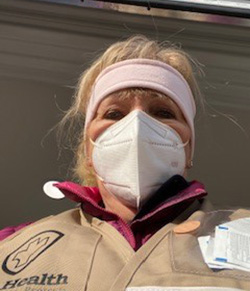 With the assistance of the National Guard, volunteers from everywhere, cars began filling my lane. There were tears of joy, tears of relief and just sheer happiness on the faces of those getting vaccinated. People took selfies and recorded the experience on their cell phones. People cheered. You could feel the utter relief that, finally, help was on the way.
Our shifts are in four-hour increments. It is exhausting to be outside in the freezing weather, but whenever I feel like complaining, I think of all the nurses working tirelessly in full PPE for 12-14 hours at a time as they care for dying patients. I have nothing to complain about.
I have volunteered again and again and have offered my staff one administrative day of pay per week if they wish to volunteer. What better way to give back? I am so grateful to the volunteers and staff who have put their livelihood on the line each day.