NCSBN is a not-for-profit organization whose members include the boards of nursing in the 50 states, the District of Columbia and four U.S. territories. There are 27 associate members. NCSBN is the vehicle through which boards of nursing act and counsel together to provide regulatory excellence for public health, safety and welfare.
Mission
The National Council of State Boards of Nursing (NCSBN) provides education, service, and research through collaborative leadership to promote evidence-based regulatory excellence for patient safety and public protection.
(Mission Statement Adopted by Delegate Assembly 2010)
Vision
Advance regulatory excellence worldwide.
Values
Collaboration: Forging solutions through respect, diversity, and the collective strength of all stakeholders.
Excellence: Striving to be and do the best.
Innovation: Embracing change as an opportunity to better all organizational endeavors and turning new ideas into action.
Integrity: Doing the right thing for the right reason through honest, informed, open and ethical dialogue.
Transparency: Demonstrating and expecting openness, clear communication, and accountability of processes and outcomes.
Featured Content

View the latest activities and announcements of NCSBN.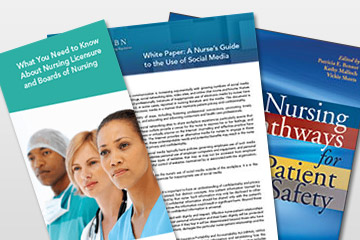 View published research, papers, brochures and publications.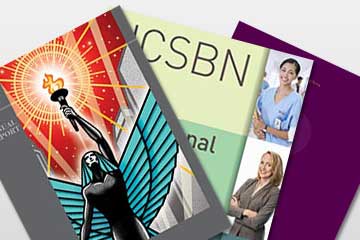 Learn details about the organization's performance and activities by year.

Watch educational videos on some of the most challenging issues boards of nursing face in their mission to protect the public.